Knife Sharpening Systems Since 1973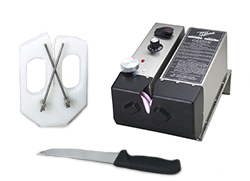 s
In 1972, while selling Chicago Cutlery knives in Florida, Fred Gangelhoff was shown a small knife sharpener that was supposed to be state-of-the-art at the time. Not too impressed with what he saw, Gangelhoff decided he could use his industrial arts degree and cutlery knowledge to develop a knife sharpener that could better meet the demands of professionals. Gangelhoff partnered with retired machinists and developed what is now known as the Tru Hone Knife Sharpener.
Since that time, Tru Hone Corporation has continually strived to improve the process of knife sharpening. With the development of the HG3 Hollow Grinder and HR8 Honer, Tru Hone Corporation has a sharpening system for any size operation.
Tru Hone knife sharpening machines are made in Ocala, Florida, USA using stainless steel construction and only the finest components. Our sharpeners are built for years of service.
Still owned and operated by the Gangelhoff family, we at Tru Hone Corporation are committed to excellence in our knife sharpening products and in service to our customers.
The Tru Hone machine was conceived, designed and tested with one idea in mind - to meet the exacting requirements of the professional.