Professional Knife Sharpening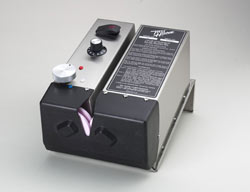 Send us your knives and we will professionally sharpen them with our Tru Hone knife sharpening system. We have been manufacturing knife sharpeners and sharpening knives since 1973. Most knives are sharpened and shipped back to you within one or two days.
CHARGES
Knives $3 each
Tips &/or Chips +$2/knife
Hollow Grinding +$3/knife
Plus Shipping
REPAIRING CHIPPED EDGES AND BROKEN TIPS
We can also straighten chipped edges and recurve broken tips for $2.00 for most knives.
HOLLOW GRINDING
If your knives are not cutting properly because they are too thick, we can hollow grind them for an additional charge per knife of $3.00 for most knives.
PACKING KNIVES
Wrap knife blades securely and pack them in the middle of the box so the tips of the blades do not protrude through the box during shipping.
SHIP TO
TRU HONE CORPORATION
1721 NE 19th Avenue
Ocala, Florida 34470 USA
PAYMENT
We accept Mastercard, Visa, American Express and Discover.
CONTACT US
Fax: 352-622-9180